BIFA
---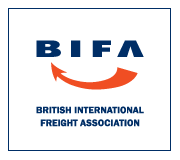 BIFA
The British International Freight Association (BIFA) is the trade association for UK-registered companies engaged in international movement of freight by all modes of transport, air, road, rail and sea. BIFA has around 1400 corporate members, known generally as freight forwarders, which offer a wide range of services within these various modes.
---
The assocation's trading members are spread throughout the UK providing one or more of the following services: European road and rail distribution; maritime intermodal services; air freight consolidation and forwarding; Customs broking and consultancy; packing of goods for export; warehousing and distribution; logistics and supply chain management. Significantly, a freight forwarder is independent of the physical carrier and thus is able to choose the best option(s) for the customers' logistics requirements.
BIFA is non-profit making and recognised by national and international freight industry bodies as the representative organisation for the freight forwarding industry. The association's goal is to provide effective representation and support for the UK international freight services industry; to promote good practice and total quality in the provision of freight services by all members, and to encourage the membership to observe the highest standards of professional competence.
To achieve that, BIFA has developed four main strands of activity: :
Representation and lobbying:

BIFA is widely recognised by many organisations and government departments as the representative body of the industry and is consulted on many subjects.

Information and advice:

Through regular events, its website and monthly newsletter, BIFAlink, BIFA keeps members up-to-date with all aspects of the industry.

Promotion:

Promoting the freight forwarder in the world of UK commerce is one of BIFA's main activities.

Training:

BIFA provides a full range of training courses, available to both BIFA members and non-members.
Apart from a small, full-time Secretariat engaged in administration and management, BIFA is controlled by its members, which give their time on a voluntary basis to establish policy and make decisions on behalf of the organisation. This is achieved through a network of committees organised through Regional Representatives. The governance of the Association is achieved through an elected Board of Directors and Council. These bodies delegate day-to-day policy development to a range of modal-specific Policy Groups, as well as a number of advisory bodies.